» Oscar Prepares to IPO
December 30, 2020
Oscar announced on Monday that it had taken initial steps with the SEC towards an IPO.
This news adds to an already healthcare-heavy 2020. COVID brought about daily conversations concerning healthcare supply chains, vaccinations, at-risk populations, co-morbidities, and others. Telehealth  saw an explosion in usage, and in turn, in valuation.
Coupled with other healthcare organizations, we've seen notable public offerings from One Medical, Oak Street Health, Amwell, Clover Health, and others. Many of these public offerings have been facilitated through a financial vehicle new to many, the SPAC or special purpose acquisition company.
Besides initial offerings, we've also seen merger activity, such as the $18.5 billion merger of telehealth giant Teladoc and the digital chronic care management company Livongo. The new, combined organization expects to cover 70 million members by the end of 2020.
Increasingly, digital health players are taking center stage in the healthcare landscape, with consumers looking for greater virtual access, care at their fingertips, and general ease-of-use from their medical providers. In response to these consumer shifts, investors are putting significant capital into up-ending the current status-quo in healthcare.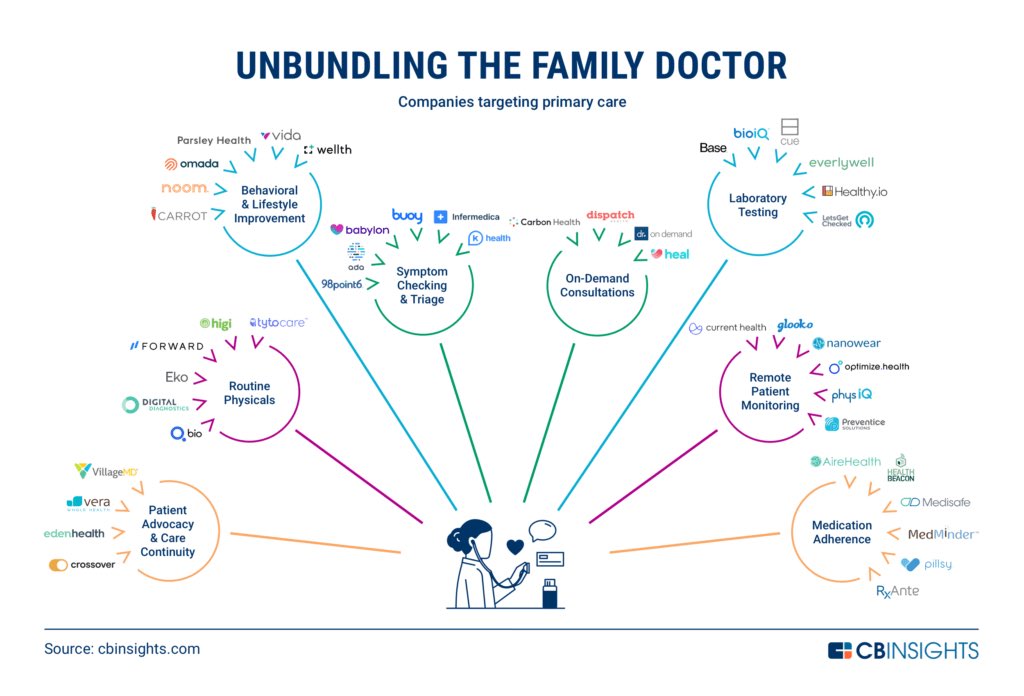 CB Insights put together the above graphic for the report Unbundling the Family Doctor, where they outline the various ways that companies are looking to change and improve primary care.
Why the focus on primary care?
It's seen as the key leverage point in healthcare. One can look at it from a healthcare outcome or financial lens and see why. As it relates to outcomes, good primary care can align patient's healthcare within the right care, right setting, and right time framework. Financially, the PCP or other provider in that initial visit wields considerable influence for what tests or services and where a patient consumes when they interact with the system.
With the above mentioned in-flows to digital health organizations and multi-billion dollar healthcare systems vying for patient's utilization, it's no wonder why primary care is a key battleground site in healthcare today.
With the announcement of a public offering, a new partnership with CIGNA, and expansion into new markets, Oscar is primed for growth in 2021 and beyond. The company has had it's rocky road since being founded in 2012, but it's growth signals positivity and we'll be keeping an eye on it to see if it can fulfill it's mission of creating a simpler and more affordable health insurance experience for people across the U.S.
Posted by John Hansbrough in Digital Health, Healthcare Innovation, Telehealth